I have to appologise. I knew it had been a while since I'd bothered to post anything, but here you are, still here after having to endure almost two months of silence! Sorry!
But that's the slide into winter for you. Not much going on, especially with all the rain that's been around earlier. One side effect of all that rain is that the ground is currently still very damp, and digging holes in it is almost an enjoyable experience for a change. You still end up with a bucketful of stones every time you dig a hole, but at least they seem to wriggle around a bit as the spade blade goes in, rather than just sitting there like an immovable object as they do in the dry.
So for the last 2 weekends we've taken a trip to one of the little local nurseries around the neighbourhood and crammed the boot full of various natives and plonked them up in the "native corner" in semi-random fashion. I say semi-random as I do try to think about just how we're going to manage to get the mower around them when the grass starts growing again.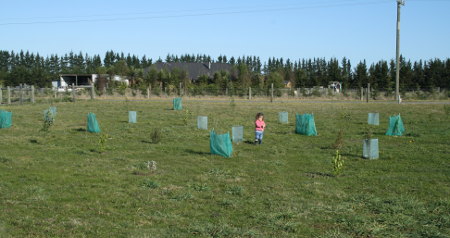 It's a bit hard to see them all in a photo of green trees against green grass so I've not bothered to try to get them all in shot (though the pic is clicky for a bigger version if you want to try to see them a bit more clearly), but I think there must currently be about fifty trees up in the wider corner now, with a few more hiding out by the veg patch just needing to grow up a bit more before they're going to be risked up in the corner with the hares and rabbits around. I suspect we'll lose a few of the ones we've just installed too unless we get some tree guards quick, but they're cheap enough that we don't mind a couple going. But only a couple. Are you listening local wildlife?!
We also almost completed one of the many hedge rows that we're gradually settling on. This row of pittos will hopefully assist the fruit trees from the northerly, and the vege garden from the southerly.