Posted in
Food and Drink
,
London
,
Rants And Rambles
,
Uncategorized
on October 11th, 2009 by Coffee
And here it is.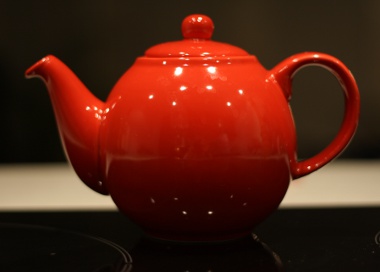 I must admit to being slightly surprised that I own a red teapot. It's not the "red" bit of that statement that is surprising me, it's the the "teapot" bit.
To be honest, it's not the first teapot I've owned.  I did once have a conical stainless steel one (for all I know I still do have it packed in a box somewhere), but it has been over 10 years since I've used one.
Why have I got one? Well oddly enough it's all to do with coffee really. In this flat we have an espresso/latte coffee maker built into the kitchen. Why? I have no idea. I guess the building company thought it would be a great USP (unique selling point) or something when showing the latte set around the showflat and might get them an extra sale or two. It's actually more of a pain in the butt more than a good idea. We would much rather have had the space that it takes up as cupboard space to store more goodies, but as it's there I have been making quite a bit of use of it.
It makes a pretty good espresso type coffee, which is about all I've ever used it for. But sometimes it seems like I'm at it's beck and call, rather than the other way around. It should be so simple. Hit the button that says (helpfully) 'cafe' and get a cup of coffee. But no. More often than not it says 'add beans', 'add water', 'empty trays', or the dreaded 'calc' (which means it needs a deep clean that demands more than half an hour attention and needs some relatively expensive tablets stuffed down it). And sometimes, even when I've just emptied all the trays it still says 'empty trays' until I smack it a bit, then it seems to think about it and grudgingly decides that yes, I can have a coffee after all and belatedly changes its display to 'cafe'.
Even with all of that grief, and because it does make a reasonable cup of coffee, in the early evening or when working at home I find I tend to wander up to it quite often whenever I'm thirsty (or have some difficult or boring work to do) and hit the 'cafe' button, and more often than not drink the coffee (I do, however, often not drink the coffee, as I'll go back the 'puter' and get engrossed fixing the problem that I originally walked away from to get the coffee, and by the time I remember I've made a coffee, it's stone cold…)
Drinking all that strong coffee seems to lead to the usual effects of too much caffeine which in not that relaxing or enjoyable, but is only evidenced a reasonable time after the last cup.
Right, so back to my teapot (as this was about my little red teapot after all)… In order to find an alternative to drinking too much coffee, for some random reason that I could not explain to myself even if you asked me to I seem to have taken up interspersing the coffees with a few cups of Chinese jasmine tea.
Close family will understand my slight concern that I might be turning into my grandfather!
Anyway, originally I was making said tea in a pyrex measuring jug and tipping it through a huge sieve (like you drain your pasta in), which possibly really wasn't the best approach to tea making ever invented. Then I managed to buy myself a small sieve which was a huge improvement on proceedings, but still apparently left far too much of a mess on the bench for Bec, so she insisted we got a teapot.
So. Here we are. I now have a little red teapot!
(but no lemon balm handy so far, so don't tell Pop!)