Posted in
House
,
Plants and Gardens
on March 20th, 2016 by Coffee
As seems traditional with any sort of building project progress has reduced to a glacial pace. The electrical side has been completed, so really all we're waiting for is the garage doors to be installed (they're in boxes in the garage – apparently there needs to be a bit more concrete ground out of the rebate or something before they can go in), and the drainage to be complete then we're done except for the painting which we'll be attempting ourselves. At least to start with. We'll see how long that lasts!
But in other news, we seem to have managed to get a decent crop from one of our pear trees this year. In fact it's the first pear crop we've really had of any description. Up until last week I wasn't aware that you're meant to harvest pears a little under ripe and ripen off the tree, so these might actually be a little too ripe, but we'll take them!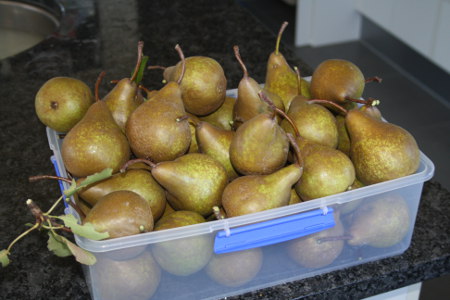 It also seems that unnoticed by us the white peach tree has been quietly ripening its small, but very yummy white peaches. Again for the first crop from them. Bonus!
I suspect a lot of this is down to the extra water they've all received this year. Either that or they've finally matured just enough to deal with the conditions here. But it's nice to finally get something back from them!