Posted in
House
,
Plants and Gardens
on February 21st, 2017 by Coffee
Apparently watching garlic dry isn't quite as exciting as I'd hoped. There's been murmurings from the cheap seats, so I guess you're due a long overdue update. Luckily last weekend there was something to update you on!
We managed to drag ourselves outside in the light drizzle on Friday night and play with a bit of orange paint in the back door area.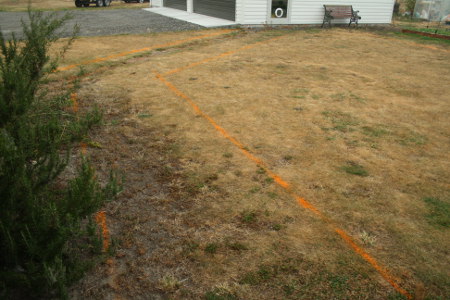 Just as well as there was a little yellow digger arriving (with driver) on Saturday morning to do a few bits and bobs. First up was to remove the big piles of stones and dirt left over from the garage project. That really didn't take long when you have a big enough tipper truck and a fair bit of experience with diggers!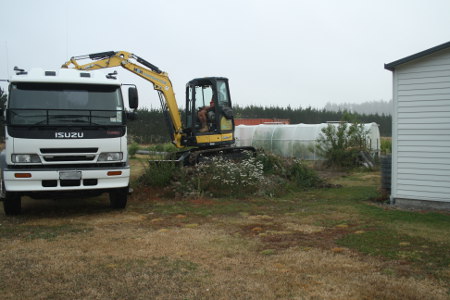 Then it was on to the trickier stuff. Especially as some of it was under the house and garage eaves. But no worries.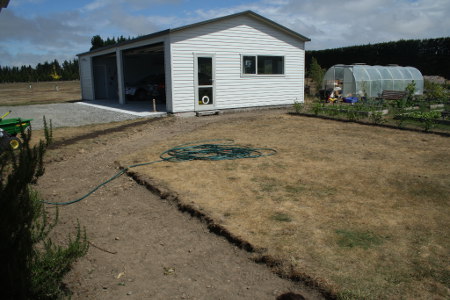 We even managed to get the new hedge line dug out, filled with some vege mix, planted, and the with irrigation pipe in as well. All in time to watch the cricket. Or we would have watched it if it hadn't been rain-delayed.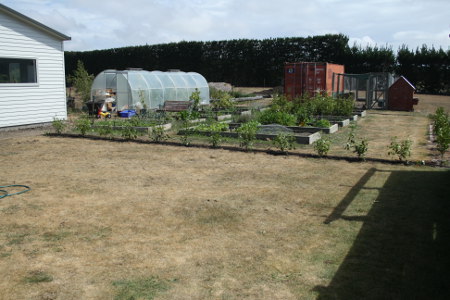 All in all a good weekend's work. Amazing what you can get done if you have the right tools! The kids even got to have a ride in the digger. They weren't too keen on that though!
Now we just have to get some path edging in, and then the path filled up again. Hopefully there won't be month's between updates this time!