It's been quite a while since I bought myself a new toy.  There's really been nothing that we'd needed, or has appealed enough to make me think I'd really must have one.  But there have been a few tech related recurring issues lurking around.  Such as someone else trying to muscle in and take over the laptop when she gets home from work!To solve that issue, and a few more, I've been thinking of getting a "netbook" for a while, and finally one has come along that I've liked the looks, specs and reviews enough to actually shell out the cash: a Toshiba NB200. It arrived about a week ago. YAY!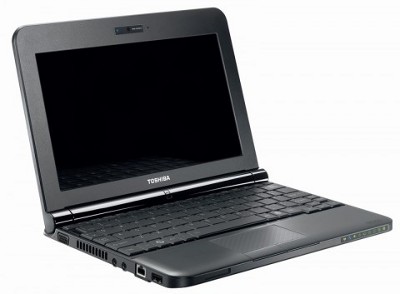 First day with a PC that comes with Windows preloaded I always find quite painful. Firstly applying all the updates that are required to Windows and all the other software, and the reboots required when doing that.  Then there's getting rid of all the rubbish that gets installed that I don't want. Then there's installing all the stuff that I do want. Then cleaning up all the Start menu items (especially important as the screen's a bit shorter).
My list of what gets instantly put on an XP system now is:
Firefox (with Adblock Plus, Flashblock, and NoScript extensions) for browsing
Skype for instant messaging and voip
7-Zip for dealing with archives
ImgBurn for CD related stuff (though this PC doesn't come with a CD drive)
VLC for media watching/listening
Notepad++ for text and web page editing
So far it's pretty much been a joy to use.  Took a little to get used to the smaller resolution screen, but it's more than fine for browsing etc. I'm still getting used to the keyboard and the placement of some keys, but no doubt that will come in time… Assuming I get to use it! Bec seems to think it's all hers. I guess if it leaves me in peace on the laptop at night it just might be worth it… And it's going to be much easier to cart around places than a full laptop when we just want to browse and check emails (the battery lasts longer too!).