Posted in
Plants and Gardens
on March 13th, 2007 by Coffee
A couple of you seem to be interested in the progress of the chillis. Well, you asked me about them. Whether that means that you're really interested or not, I won't ask.
But here they are. About a month on from when they were first planted out as little seeds. And they're just starting to really take off. It took ages for them to start getting their third leaves, but then for most of them the forth, fifth, even sixth have come along really quickly. It'll soon be time to repot them again, I suspect. I think I learnt my lesson last year and remember that the roots are a lot bigger than the tops at this early stage. Don't want to stunt their growth!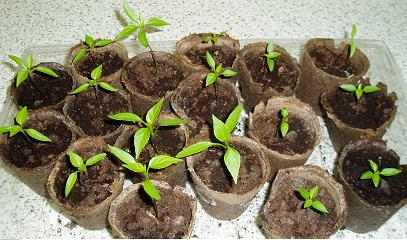 The hard part so far has been having to give some away already without really being able to tell which had the most Ooomph so I just had to guess which were going to be the fast growing, heaviest yeilding plants. We'll see if my chilli instincts were right later on.