Posted in
Food and Drink
,
London
on December 26th, 2007 by Coffee
Well thanks to Rach we received an extra big bird to have for Christmas dinner…… yep, for just the 2 of us she was a big one, weighing in at 7.9kg (well probably 7kg by the time you take the giblets etc out)! We wondered if she was going to fit on our oven trays – but thankfully we found one that she managed to full up! (by the way I can't believe I am sitting here writing about a bloody turkey).
Now we just had to stuff and cook it……….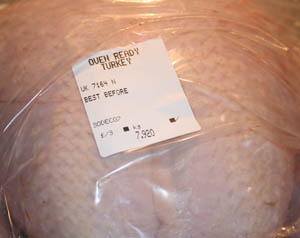 Thankfully Jamie Oliver was on tv the night before, so we picked up a few good cooking tips, for not only stuffing but learning different ways to test to see if the bird is cooked right through. Now onto the prep, a bit of sage and lemon zest butter under the skin and some stuffing (our best yet), into the neck and a little inside the bird (enough so it can still breathe apparently – even though it's dead…). Now into the pipping hot oven for about 3 hours.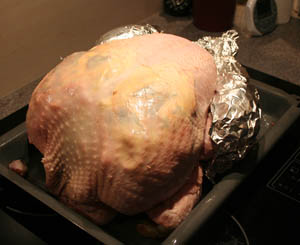 And here she is………… all crispy! And let it stand while the vege roasts away. We also managed to make some of our best gravy yet too.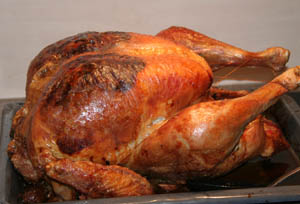 And here she is the completed meal for just the 2 of us….. (a lot of food there and yes there is a lot left over). We were ashamed of how much of Mrs bird had to be thrown away – even after we'd filled up the fridge with bits of it – there was just no way we could've used all of it! We'll already be eating turkey sandwiches for breakie, lunch and tea for the next week……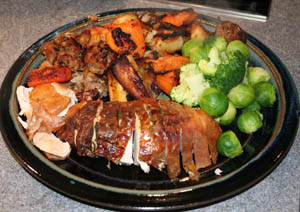 All in all the best Christmas meal we have cooked together…. now we just have to try and repeat it sometime and share it with others.