Posted in
Travel
on February 3rd, 2008 by Coffee
As we didn't go anywhere for Christmas this year, and it had been a while since our last trip, we thought a weekend away somewhere would be a good thing to help us recharge a bit. As we'd always wanted to go to Barcelona, and as there were another couple that wanted to go too, we went.
I thought we'd have a great time when we got off the plane only to be given free train tickets into the centre of town. Not something you're likely to get in London any time soon, and a great way to make you feel welcomed and wanted!
We checked into our hotel in central Born, called the Chic and Basic. Not like any other hotel I have stayed in before, they really had made an effort with the square box. A really old building mixed with modern design, the rooms had there own light system that gave you about 15 different colour sequences, and the shower was in the middle of the room. A really different but great place to stay.
The first night saw some fantastic food at a tapas bar/restaurant – Cal Pep – one of the best in the city, apparently. And judging by the queues of people waiting for a spot at the bar as we pushed through to our pre-booked table (there was only about 6 small proper tables up the back) that must have cost someone their first-born child, or favourite shoes, to book for us, but we thank them deeply from the bottom of our stomachs!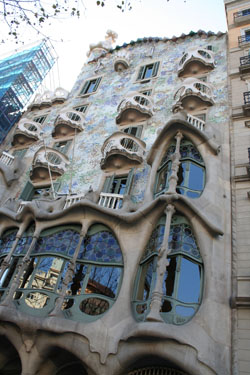 We took in some local scenery and managed to pack a lot of walking and site seeing in on the Saturday. We visited the Sagrada Familia, and La Pedrera, Parc Guel, Casa Batllo, all designed by Gaudi, and of course we walked along Las Ramblas (the main most famous street in the city).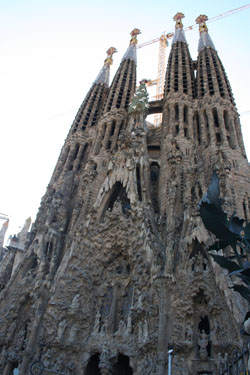 Then we wandered back for a bit of champers, a rest and then off again for more fine wine and food. Sunday we spent walking along the beach until we had to head back to the airport. (Again, free train tickets.)
One of the other best parts of the trip was the weather. Sunny, warm. Says it all really! Walking around in t-shirts in Jan made it feel more like being in NZ than in Europe.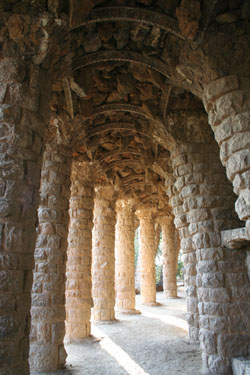 Fantastic city to wander around though. Nice and compact, with a good Metro service for when the feet get a bit sore. We'd go back again, and probably will.