Posted in
Food and Drink
,
Travel
on November 7th, 2009 by Coffee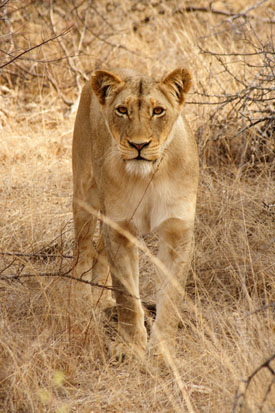 OK, enough grief already!  Here's a new entry for you. Finally! And just for a change some of the pics are clicky for bigger versions…
The other week we had our first real holiday of the year. YAY! (And yes, for those of you that seem to think that we're always on holiday, this really was our first real holiday of the year. Our only other trip was the long weekend in Morocco that doesn't really count. Honest! Go back and have a look if you don't believe me!)
Where did we go? We gatecrashed Rach and Rupert's planned holiday to South Africa, making the most of a week off work by leaving on Friday night, and flying back on Monday morning straight to work. From the UK, South Africa is an easy place to visit as there's no significant time difference, so the overnight out and back work really well. As long as you can sleep on a plane, and luckily we managed to get enough of that both ways.
It was a pretty busy time though, as you can imagine with such a short break.  Landing in Johannesburg we pretty much jumped straight on another plane and headed off north a bit to Kapama, a private game reserve on the edge of the Kruger national park, while the other kids drove off to visit friends. 2 nights there and then they picked us up on the way past and we headed to another smaller lodge nearby, Pondoro, for another couple of nights.
The daily timetable at both lodges was roughly the same. A very, very early wakeup call, early snack and coffee, a dawn/early morning game drive for a few hours, back for breakfast, a bit of rest time, lunch, a bit more rest, then high tea (yes more food) before the afternoon game drive for a few hours, dinner, then sleep, ready for the next day. A lot packed into a day! And if you arrived just before lunchtime, you just kind of slotted in with lunch and then the night drive etc…
What did we see? Well, luckily for me Pondoro issued us with a little list of possible sightings which I proceeded to tick off, as well as trying to remember what we'd already seen at Kapama. Here's what it shows we saw of the larger animals:
Lions
Jackal (Pondoro only)
Baboons (Pondoro only)
Vervet Monkeys
Elephants
White Rhinos
Giraffes
African Buffalo (Kapama only)
Tree squirrel
Burchell's Zebra
Waterbuck
Wildebeest/Gnu
Greater Kudu
Nyala (Kapama only)
Bushbuck (Pondoro only)
Wharthog
Impala
Common Duiker
Steenbok
Blue tailed scrub lizard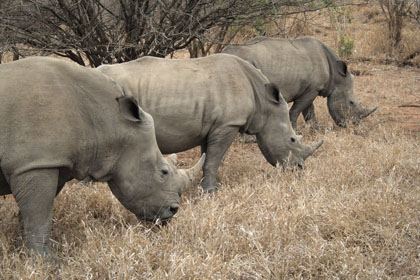 We also saw a huge number of different birds as well. Almost enough, and enough pretty ones, to understand the twitchers…
The only one of the big 5 we missed seeing was the Leopard, which apparently is the most difficult to find. We don't feel particularly hard done by though. It's just a potential reason to return one day!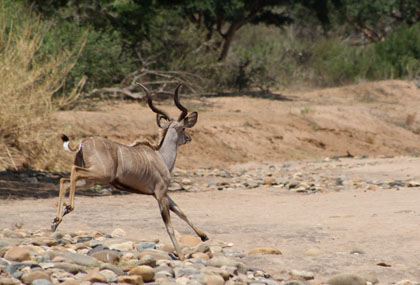 Do we have a favourite lodge?  They were both quite different, Kapama is a fenced in reserve that caters for a lot of guests (60 rooms)… but you are pretty much guaranteed to see some animals I guess, just not sure what and when as although its fenced in it is still a vast space.  Pondoro is a lot smaller reserve with only 6 rooms, so the experience is a lot more intimate (they know your name and the staff hold down about 6 jobs i.e bar tender, tour guide, ranger etc) and the food is fantastic. The reserve itself is not fenced in so you can actually drive around for ages and not see anything.
So which one would I go to again, that's a hard one… I am glad we spent time at both, they each have their own advantages, they both had fantastic service which you can't really fault.  But if we had to go back I guess we would choose Pondoro though for the size… but then it would be a bit of a bummer if you went the whole time and saw no animals……but then that's wild animals for you!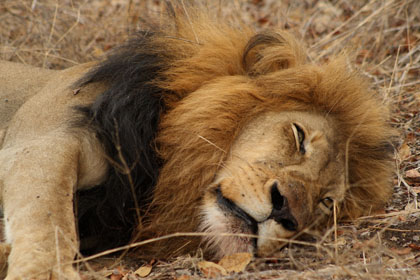 After those fun and interesting days, we said goodbye to the animals and headed south for something completely different.  A couple more hops in various aeroplanes later and we were at the other end of the country in Capetown. We had 2 nights there, eating, drinking and doing the hop on hop off tourist bus trail around town. There was an aquarium on the waterfront there, and I find it very hard to walk past an aquarium so I managed (with actually no effort at all) to convince everyone to go in for a wander. I'd give it a 7/10 on the aquarium, 8/10 if you factor in that it was just a couple of degrees cooler inside than in the sun outside!
And then another quick drive out to Franschhoek for a couple of days and nights of wine tasting, wine drinking, eating and sleeping.
We let Rupert pick the wineries, including a full day tasting session around Franschhoek and Stellenbosch, which started at 9.00am (a lot of spitting was required), and he did a pretty good job!  It was just the 4 of us being driven around in a van by a local wine tour guide who knew so much (he was really great).  The wineries I recall are:
Rupert and Rothschild
Boekenhoutskloof
Kanoncop
Rustenburg
Delaire
Thelema
Muratie
Burp!
We tried some great restaurants in Cape Town and Franschhoek, they were Fork, Tank (Cape Town), La Petite Ferme, Ruebens, and Tokara.
And then another short hop back to J'berg airport to jump onto yet another plane for the overnight flight back. Yes, I know, a lot of flying. We'll plant a couple of trees or something in a few weeks to offset our carbon footprint.
As you can imagine there are far too many photos for us to wade through, argue over and then work out what to do with. Even more than usual this time as we had 2 cameras with us along with a heap of memory cards and were both busy snapping away merrily at anything that moved, along with some stuff that didn't. When we finally agree on a few more that we like we'll chuck them on another page for your viewing pleasure. Or we'll bore you stupid with the whole set when we're next with you sitting around a laptop or something. You have been warned!
But I leave you with this, a kind of ugly animal, but kinda cute in an odd way: