Posted in
Travel
on July 27th, 2010 by Coffee
(Long overdue catch-up entry no. 3)
For a first step in learning how to relax again since finishing up work and leaving London, we managed to convince Michael and Megan to ditch their kids for a week and come on a week long break in Mexico. It was really hard work to convince them. We kept having to say things like "are you sure you don't want to go somewhere else where we can take the kids?", but their replies indicated that that really wasn't the preferred option! So we booked in for an all-inclusive poolside week in tourist town, and passed through Houston to pick them up on the way to Texas.
It felt weird leaving the heat of Houston to go to a cooler place for a beach holiday. Something about that took just a little bit of getting the head around until the first time that we were slouching around by the pool and it was pretty much the perfect temperature. (Houston didn't get that comfortable poolside until late afternoon.)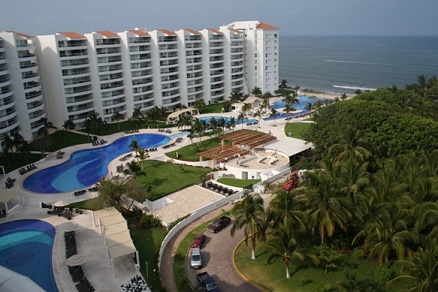 We managed to settle into a routine pretty quickly:
Get up.
Breakfast.
(optional) an after breakfast walk along the beach to work off some of the food we'd just eaten…
Back to the room to get prepared for the morning by the pool.
Morning lounging by the pool, trying to put off the first drink of the day…
Lunch at the buffet.
Afternoon by the pool, spending time trying to catch the eye of the drinks waiters…
Back to the room to get prepared for the night…
Pre-dinner drink at one of the bars.
Dinner at one of the restaurants.
After-dinner drinks at one of the bars.
(optional) Post-after-dinner drink/snack at one of our rooms.
Sleep. Repeat.
From memory I think the only days we deviated from that pattern was 1) took up the invite to a wine tasting with one of the managers of the hotel at the rooftop bar, and 2) when we (shock horror!) left the hotel grounds into the local town for a look. The wine tasting was great. Later afternoon on the rooftop, 4 wines, all matched to surprise plates of some really nice food. Yum! Almost didn't need dinner that night. Almost! We still managed it, of course! The trip into the local town was interesting, but still didn't feel like it was the real Mexico somehow. But that's what you get when you get lots and lots and lots of tourists in one area!
One of the highlights of the week was the ability to have chillies on my breakfast. Yum, yum, yum!! While not being the "real" Mexico, we still had access to some Mexican food in the restaurants at all stages of the day. I wouldn't want to even guess at what some of it was called, but it was all pretty good!
Then just when we were really getting into the swing of the daily routine, it was back to the heat of Houston. Stay tuned!…