Posted in
Plants and Gardens
on September 18th, 2012 by Coffee
From her:
Don't worry, we haven't got our Christmas decorations up already or started the Christmas baking. The massive pine trees we have out the front got a bit of a haircut, as did the neighbour's smaller ones down our boundary fence.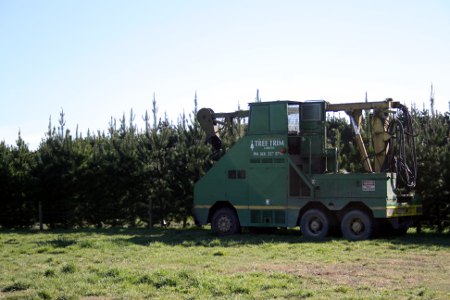 If you have ever seen the tree trimming machines in action you will know that you don't really want to stand in line of any falling debris or anywhere near the machine. And the debris can spread quite widely! Think helicopter blades attached to something out of one of the Mad-Max movies. Although they have quite a blunt instrument attached they are still pretty lethal (well they have to be to cut through the size of some of the branches). So if it accidentally flew off I am sure I would not want to be in the path of the blade! To make the event even more interesting to watch, when cutting the big trees out the front was it was blowing a good ole norwester (and for those of you that have not experienced one here they can be pretty damn windy), which made for hard work lining up the tops of the trees.
But with any tree trimming comes the cleaning up, and when the trees have not been trimmed for at least six years that's quite a lot to pick up. Most of somebody's Saturday morning was spent moving all the fallen branches from the road-side to inside our boundary. Luckily the neighbours came along with their trailer and a helping hand to help us pick up the smaller branches (not any good for firewood) and then let us kindly dump them onto the fire they had already got roaring on their land. Then we did the same down the boundary line, loading up the trailer and then dumping on the fire. And we didn't even remember to get the marshmallows out. Although not sure how pine-smoked marshmallows would taste anyway.
Next job is to cut all the wood that remains into firewood. But that's another weekend's job hopefully with another helper who wants the wood. Not looking forward to that one. Anyway will leave you with this interesting fact or myth: did you know that apparently pines can grow during night time?!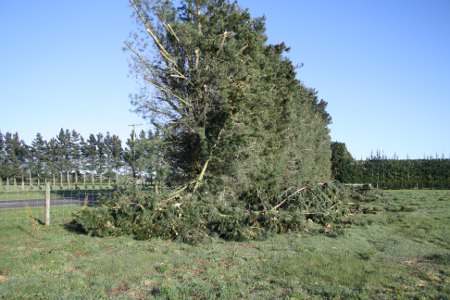 The photo really doesn't do justice to the HUGE pile of trimmings and wood there that all need sorting out. But we'll get there! And hopefully we'll get a better photo of the wood pile too!
From him:
When someone says "Most of somebody's Saturday morning" just who do you think they meant?! I hurt. Everything hurts. If it doesn't hurt, the thing next door hurts and so it makes it seem like everything hurts!
Ow, ow, ow, ow, ow. Even typing hurts. I give up.