It was a brilliantly fine morning this morning and as we manged to wake up at about 6:30 this morning we decided to go for a walk.  Actually, Bec decided, and then managed to harass me into it.  Glad she did though, it was a stunning morning for it.  We decided to walk down to Tower Bridge to get some breakfast.
On the way down to the riverside, we found that the birds that had been camping on the life-preserver had been lucky enough to have their chicks hatch.  Six of them!  Good luck feeding that lot!  Seemed that half the neigbourhood was out having a look too.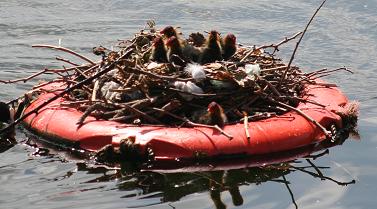 We did have a bit of a problem when we got to Tower Bridge though.  We were too bloody early for brunch anywhere! Not that it worried us too much.  We just sat in the sun and watched all the tourists arrive and take their photos.  And then had an average brunch by the riverside in the sun. Yay Sunday!