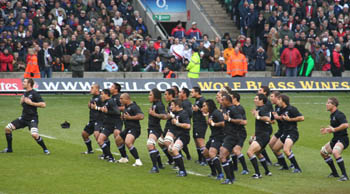 A couple of weeks ago we were lucky enough to continue following the tour we started in Edinburgh and got tickets to go to the NZ vs. England game at Twickenham (once again through Bec's boss at work – thanks Tim).
We meet up with him just before the game, and as suspected our seats were in the "English supporters'" part of the ground.  So here we were again two little ole kiwi's amongst a lot of English, and when we were scoring tries we had to be a bit more reserved than usual (well Bec has to contain herself).  The game was interesting, it took the AB's awhile to get going, but then perhaps they were just waiting for the English to make mistakes – which seemed to work.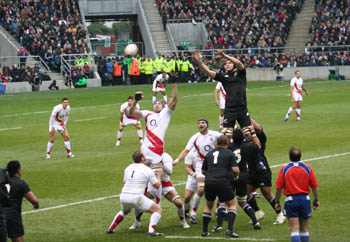 It was bloody cold in the 2nd half as the sun went down and it started to rain (how we forgot to take our hat and gloves, I'm not sure).  And of course we had a pint or two of Guinness whilst we were there. It seems to be a bit of regular thing when we go to Twickenham.
After the game as the crowds leaving were massive, and we thought it would be a fair while before we could get a train, we had a nice night walk down the Thames to Richmond, made all the more pleasant by stopping at a pub for a warming drink on the way.
It was another good day out. (And we won the rugby!)