What better way to while away a couple of hours before having to get dolled up to go to a wedding than to have a quick round of mini-putt with M&M and their kids!
Gold Diggers Mini Golf in Alexandra was the lucky venue. But we were really lucky to manage a round, as we just managed to catch the lovely owners before they rushed off to have a sore hand seen to… We hope it turned out ok for them!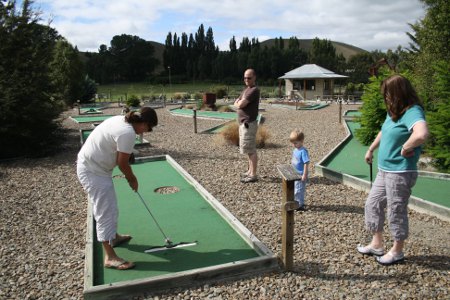 So we had the place to ourselves, which made it a lovely relaxing round, with the added benefit that Dylan could race ahead as fast as he liked, while Ben could take as long as he liked!
Ended up being hard to drag ourselves away from the quiet and sun to get ready for the wedding!
I guess we should keep up the ratings bit too:
Course Difficulty: Average. Nothing too tricky, but a few holes requiring a bit of concentration.
Course State: Average to good. A bit of the felt was starting to look a bit shabby, but it played well enough. Clear of debris too.
Price: Good Value
Playing company: High class, with added entertainment value.