(Long overdue catchup entry No. 2)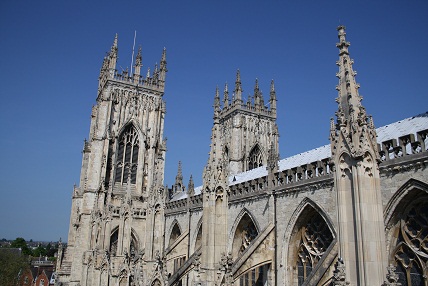 Hot on the heels of an overseas trip, we thought it only fair that we went somewhere local the following weekend. We'd been told by everyone that York was a great place to visit, and in all our time in the UK we had not managed to quite make it there. So York it was!
After an early start to catch our 7am train we were pleased to see that this time we had well and truly managed to pick a weekend with some decent weather! More than decent really. Almost too hot!
First thing we did was to try to get our bearings in the town. What better way than to look out from the top of the Minster tower. All you have to do to get this view is to climb the 275 very narrow and windy steps to the top (paying for the privilege of giving yourself a heart attack as well, of course!) And let's face it, it's not as if you can run up as it is a very narrow spiral staircase. On a fantastic day like we had, well worth the effort though!
Then a visit to the National Railway Museum. This is a great museum with lots of old trains and historical information. It's amazing to notice that trains haven't really changed that much, perhaps just the layout of the passenger cars, and OK the technology part. But they are still pretty massive and to me they really do look quite similar, but nowadays just look a lot slicker and don't have coal to keep them going. Standing at ground level beside some of the engines and carriages gives you a sense of just how large they are. When things just pull up at a platform you never really get to see the real size. Impressive.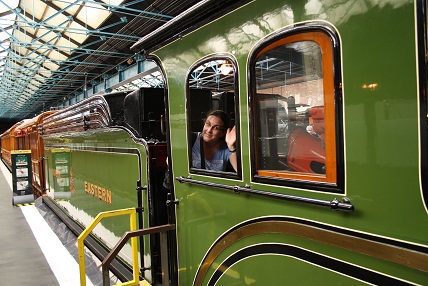 After a leisurely brunch on Sunday we had a walk around the city walls. This was a great way to keep up our normal theme of 'walk, walk and walk some more' whilst on holiday. You'd think by now all this holiday walking would make us pretty trim. But lets just say those results are yet to be seen. Anyway the walls are quite impressive and the walk was all the more enjoyable in the lovely weather, but at times the sun became a bit unbearable so we would stop for a break out of the sun to try and catch our breath for a bit.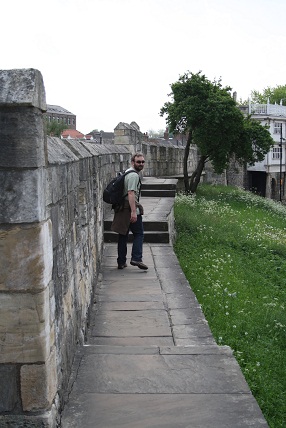 Then late afternoon we jumped back on a train to London, and in true UK style the train was hit by delays on the way. Didn't bother us too much as we had no where to be.
Another nice weekend away and a great UK place to visit which I would recommend stopping by if you haven't already.