My current occupation is housewife. It is therefore, apparently, one of my chores of the week to iron 'the master's' shirts for the week so he can look well groomed at work (otherwise there will be a early morning blurry eyed debate on whether he can go to work without ironing said shirt). So this week I asked the wage slave for a new ironing board to ensure I have the best tools to carry out my tasks. Our current ironing board was a cheapy, and it was surely a perfect example of you do indeed get what you pay for: narrow, light and wobbly, and basically nasty.
But he did, he did indeed come through with the goods. Yep, it is the small things in life, but I am pretty happy with my new ironing board. It actually made ironing a pleasure-able experience today. In fact I think I might have been secretly smiling. It is wide, sturdy and even has a place on it to put a flag on it to alert everyone to the fact that ironing is taking place (apparently that' actually for the cord so it can be kept out of the way). Lets see how long it takes before the novelty wears off.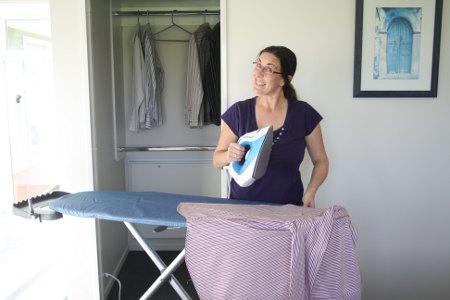 All in all so far I would say it is well worth paying the extra dollars for a good one. My advice to all you budding housewives out there: don't skimp on your board!