A guy at work was asking us the other day where he should go to get some fireworks for bonfire night. My reply to him was "well, as an owner (if you can be such a thing) of two cats, I'd say don't!".
And we didn't, of course, and neither did any of our neighbours if our unbroken sleep that night. But it seems we couldn't get away without the bonfire. Not that we had it on the actual day, but as Saturday morning was perfectly still we raced out and set things in motion for a bit of a clean up of the front tree trimmings. With a bit of help from the trusty old petrol can to get things going, it went! I think we even managed to get rid of at least half of the bits and pieces.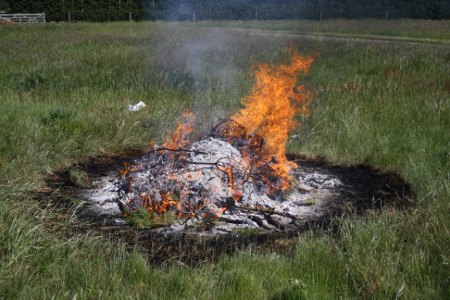 The photo is pretty much at the end of the process. I'm not sure it really does justice to the the huge flames that were threatening to set the long grass on fire… And it certainly doesn't do justice to the huge amount of raw material that was shuttled slowly from the tree line to the waiting flames. I hurt. Again.
A few hours later and we were still left with a big pile of charcoal and ash that took a lot of water to stop flaming up in the stronger wind that crept up a bit later in the day. But at least we got half of the them gone before that. We just need one more day like that. Please!