The local Asian food place we found the other day has some fantastic sea bass and sea bream for less than half the price of our usual supermarket, so we'll be making some use of that as we like both fish. We've been getting a bit stuck in a rut though and normally have it baked whole with something like chilli,  ginger and lemon grass stuffed inside, with some lime juice in a paper parcel.
But last night we decided to try to do something different, and opted for sea bream fillets with warm salsa verde potatoes. Great! Except we had whole sea bream, not fillets.  Gulp! I can't remember the last time I even had to fillet a fish!  I'm sure there must have been one.  I think. Maybe?…
With the help of a couple of video clips on the net, and a pull out guide we'd saved  from an old Olive mag I don't think I did too badly! By the forth one I was definitely getting the hang of it. Nowhere near as good as the guys in the videos, but ok!  Helped having a really sharp, flexible knife on hand though. We'll just have to keep buying fish so we* can practice.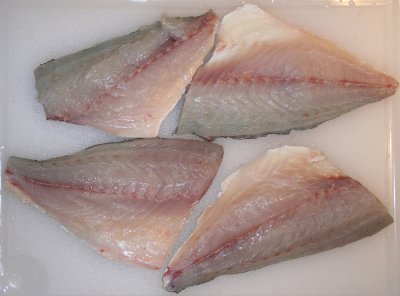 (* I say we, but I think it's going to take a lot  to get Bec to have a go. She was "eeew"ing a "blech"ing all over the place…)