Today we went for a walk in what was  a nice sunny day at the time, we are trying to make the most of the end of summer (we've really notice how much shorter the days are getting already)!
So we toddled over to the local ecological park, which is about a 30 minute walk from here and on the way home we stopped off at the local basin which is apparently a bird sanctuary.  The park would be even more peaceful if it wasn't right beside the train line.  But its nice enough.
Today's theme for pictures was apparently berries…  so we walked and stopped and took a pic of some berry tree/shrub/bush, oh look then another type and then some more… and so on. It kept Mike entertained, got us both out of the house, gave us some exercise and we got to enjoy the sunny weather.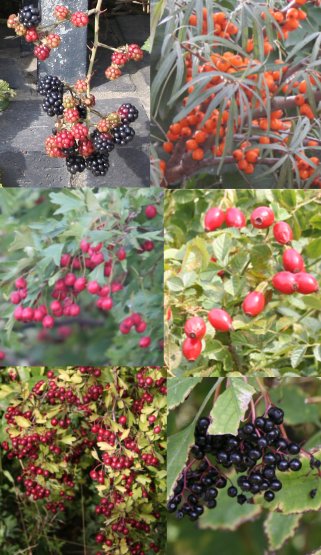 [Hi, it's Mike here.  Just a note to say that the reason today's theme was berries is that within a very short time on the walk I noticed that there were soooo many berries around. It reminded me that one of the women at work that lives in the Countryside (she does seem to manage to say it like it's got a capital C) and goes horse riding was saying that all the blackberries and apples around the place have got ripe so much earlier than usual this year.
There were also a lot more types of berries that I took photos of, but I got pretty bored cutting them out and sticking them together… Sorry!]