Since getting the bikes a while ago we've been looking to do a decent length ride, but due to time or weather we didn't get around to it.  Until yesterday.
On our various trips on the bikes to supermarkets, DIY stores, and clothes shops, we often pass the start of The Greenway, a long pedestrian and cycle path built over one of the main sewers apparently.  Read about it here to save me some typing… Transport for London link So that was the start of the trip. A nice long pretty much straight cruise across east London in almost perfect cycling conditions. Not too hot, not too windy.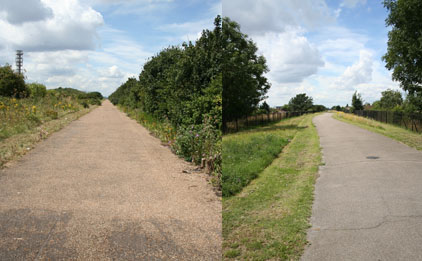 We did find that a stretch of the Greenway was closed, presumably so they can get it properly sorted out for the Olympic games as it will be one of the main ways to get to the stadium in 2012. So we had to make a short detour around a couple of blocks, but then we got back up to the Greenway to find that apparently pretty much overnight a visitor viewing area looking over the Olympic Park had sprung up.  They even provided us with free water to help replace some of the sweat we'd lost biking into the slight headwind most of the way.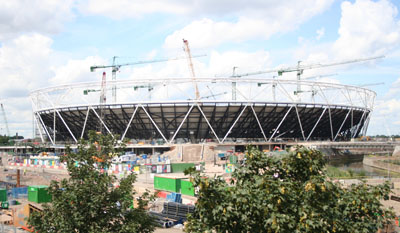 From there we finished the last stretch of the Greeenway and headed for a picnic in Victoria Park and a break to give our legs a brief rest.
After a quick cycle around the park, we joined a canal towpath that took us most of the way down towards Limehouse.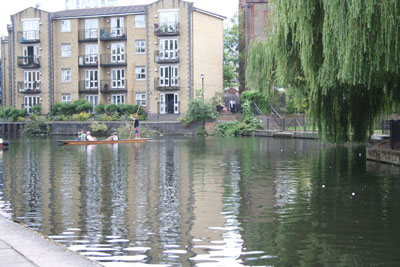 Here we encountered having to bike on roads for the first time on the whole trip. Most of them were empty back streets though, apart from about 2kms on a slightly busier one through Poplar. Then after visiting the ducks again, we were back to our home cycle trails.
Here's a Google Earth path of the trip for those of you with access to that.
So all in all, I think the whole trip was about 25ks, but only 4 or 5 of that was on roads. It was quite enjoyable really.  Now we just have to workout what to do for the next one…