Posted in
London
on June 25th, 2007 by Coffee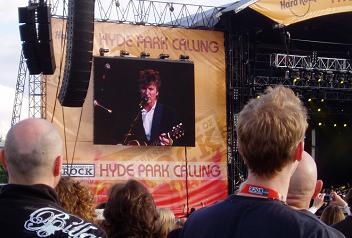 Whenever a Kiwi band makes the effort to come over this side of the world it would be a bit rude if we didn't make the effort to go and see them. This year Crowded House were playing on the Saturday of the Hyde Park Calling gig, so we popped along.
Good set from the guys, as you'd expect, but it was just a pity about the weather! Massive downpour towards the end of their set that kind of put a bit of a dampener on the whole thing, but we coped. Just. At least we'd had a little bit of sun before then to warm us up for it.
Peter Gabriel played after that, but to be honest, after a couple of songs we realised just how wet we were and decided to toddle off home to warm up again. Still, it was possibly better than being stuck at Glastonbury this year though!