Posted in
Plants and Gardens
on February 26th, 2009 by Coffee
After starting so late last year I was determined that this year I'd make sure the chilli plants get the best possible start, so we actually manage to get some decent chillis to eat this time (and there's time to try again if these ones don't hatch).
So in they go.  I'm trying something a bit different this year, with some seeds in pots, and some in the tray. We'll see if it makes any difference to speed of germination or ease of transplanting a bit later…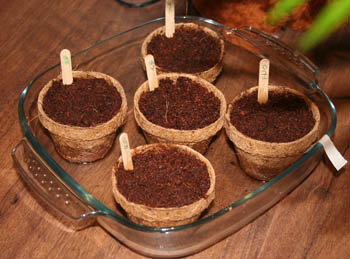 This year's varieties are:
Fresno
Anaheim
Jalapeño
Prairie Fire
Ring of Fire
Cherry Bomb
Pimentos de Padron
I have no idea where they're all going to go when/if  they sprout, but a couple of people have already put in orders for plants….