Posted in
Food and Drink
on August 31st, 2009 by Coffee
Megan seems to think that we've thrown down the oven-glove, and we're now in a battle of the preserves. Let the battle begin!
Our effort  today  was a chilli and tomato jam.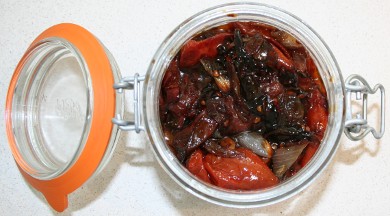 It was a bit of a fluke that we had this on hand ready made though. I'd actually pulled the page out of our massive folder of recipes as it told me what type of spinach that we could plant his late in the year. A few hours later Bec pointed out that it had a chilli jam recipe on it. I have no idea how I missed that! Good job we had all the ingredients on hand…
Over to you Megan, beat that!