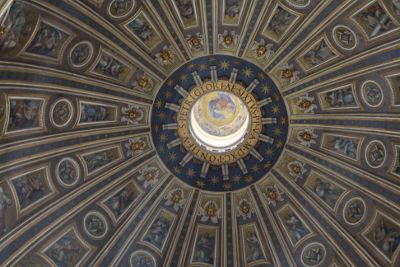 January is normally a long, cold, dark horrible month here. So we normally try to do something to break it up a bit. This year we decided to go have a look at Rome for a couple of days. Not that Rome would be tropical, of course, but at least it's not London!  I'd been before, but Mike hadn't. In the end we couldn't have had better winter weather for it, dry, crisp and sunny on day one and warm and cloudyish on day 2 – just as well with all the walking that we did.
Highlights of day one, would have to be the Vatican and Sistine chapel.  The Vatican is such a grand building and it even had a very large nativity scene in it with its own working water wheel!  But the Sistine chapel, always impresses me with the amount of paintings and art within the building.  It was funny this time as they were not letting you take pictures,  however, they are not so good at publicising this so we managed to get quite a few before we realised!   The rest of the day we pretty much just kept walking around and taking in all the tourist sites, including Spanish steps, Trevi fountain, Pantheon and I am sure there are more!
By the time we got back to our hotel and sat our weary bodies down it was very hard to get back up again and set off on yet another walk to find somewhere for dinner.  Eventually we ended up back where I wanted to go from the start, but only after doing a few circles around the local area. But it was a final choice of Japanese (yes I know its not very traditionally Italian) but it was fantastic (if you are ever looking for a good place to go when there and fancy Japanese, go to Taki)!  All that was left after a big meal was to sleep well and recoup for tomorrow. When we started walking again!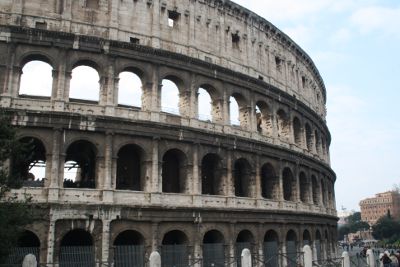 Day Two – pretty much started by heading as far away from our main point of interest for the day – The Coliseum, and then the train station.  But it allowed us to get some more exercise and take in a few other tourist sites.  But the Coliseum was worth a visit even after standing in a massive cue to get in.  It really is a massive structure that is still quite well preserved.  Oh and the pizza slice we had for lunch from what was probably more of a local shop than a tourist one was fan-bloody-tastic.  We were just gutted we couldn't find another shop later in the afternoon before having to leave so we could have another piece, hungry or not (of course we didn't need it)!
What's my view of my second visit to Rome? The first time (about 8-9 years ago) I had absolutely loved it and it had become one of my favourite cities.  Now I'm a bit undecided I think… Parts of it did not have the same 'wow' factor as I remember the first time did.  However, I think the first time I went I really had not been anywhere else (or maybe anywhere for that matter) within Europe with such history or buildings.  But I got more and probably better pictures due to the quality of camera's nowadays.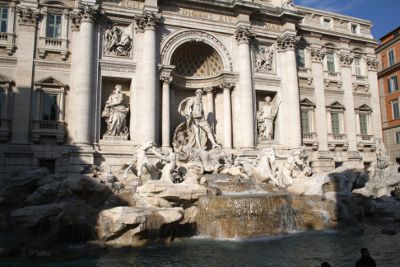 Google Earth paths of our 2 days walks are here: Day 1 walk, and Day 2 walk.