Posted in
New Zealand
on December 30th, 2010 by Coffee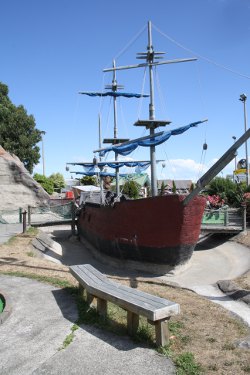 Twas the day before Christmas, and another pearler it was too! So we decided to get out and get some sun, and also continue our tour of Christchurch mini-golf courses that we started some time ago.
Pirate's Island was the day's choice. And Bec's Brother Mike the day's company.
A fairly competitive round was had, with the regular golfer whipping our butts, with Bec whipping mine. Oh well. Next time!
A fun day out, but it seemed like it was over a bit quickly. I can maybe see why they were offering half price same-day second rounds… But it kept us busy for a bit, and got us out in the lovely sun.
And the ratings:
Course Difficulty: Easy. Only a single trickier hole. Most were par 2's, so we whipped around it really.
Course State: Average. A bit of work needed, and the water that should have been surrounding holes and flowing down the waterfall was decidedly missing. Toilets were a bit icky too.
Price: Reasonable with a two-for-one voucher.
Playing company: High class.
Consensus is that the Ferrymead course is still ahead at the moment.